Program Gallery
Be sure to check out our 'Meetings' page to see what's in store for our
Next General Meeting !!!
August 2009
At our August General Meeting, we created adorable snowmen holiday decorations. They will be sold at our Fall Show as a fund raiser to help the Guild continue to do all the great things we do for our community. Maybe you'd like to purchase one? Be sure to see us at the Fall Show for this and many other wonderful hand crafted items!

July 2009
Our July General Meeting consisted of a workshop in which we created greeting cards. We have several "paper crafters" who helped us make cards that the Guild will use for our Sunshine Committee. Guests were welcomed and the first card made was theirs to keep. Any additional cards made were donated to the Guild.
June 2009
At our June 17th meeting, we had a Show and Sale of craft items. One of our local residents attended our meeting and offered for sale, at 80% discount, a variety of craft items, including scrap booking and paper crafts, among many other craft supply items. It was a very enjoyable evening.
May 2009
Our installation dinner was held at our May meeting. As you'll see in the following pictures, our Italian theme was colorful and great fun. Anji was responsible for the concept and handled the 'swearing in' of all the new Guild Officers.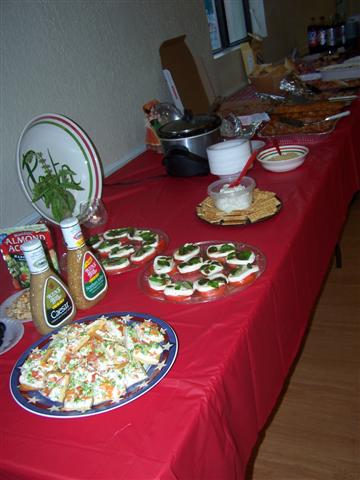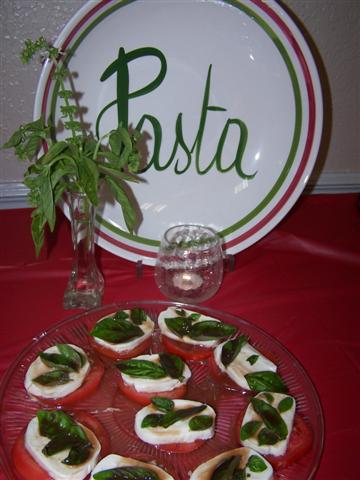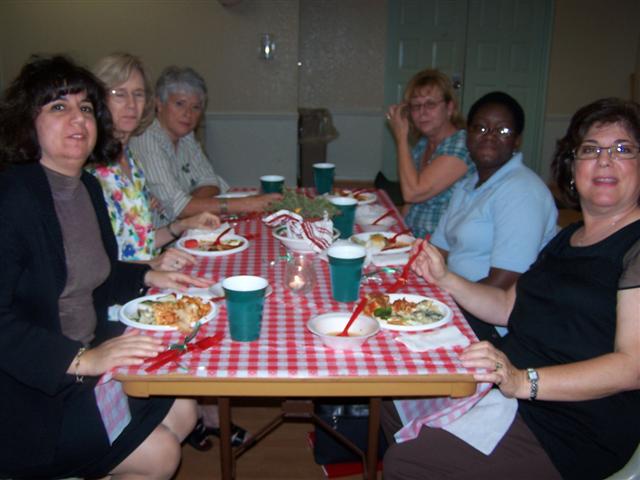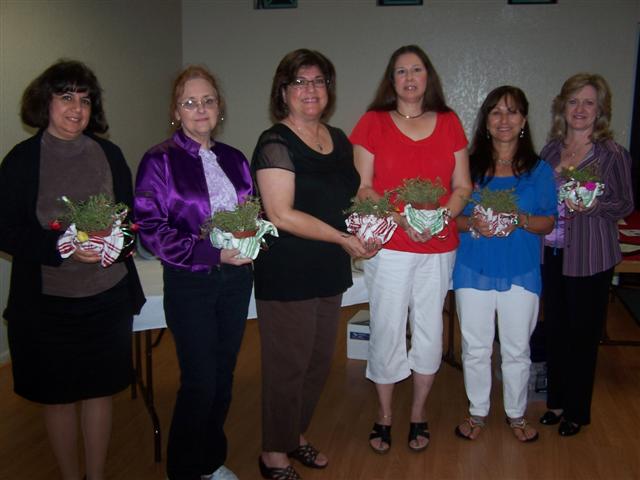 March 2009
At our March 18 meeting, we took this a step further by making our own ATCs with the help of members Doris, Anji & Marilyn. Materials were provided for the most part, but many members brought in their own materials as well. This was a make it & take it meeting. Guild members donated their cards to local school art teachers from the Guild, and that evening's guests were invited to take their cards home.
Some of our favorite websites to visit to see ATC examples are:
www.b-muse.com/artist-trading-cards-g.HTM#color
www.art-cards.org/
www.cedarseed.com/air/atc.html
~
February 2009
At our February meeting, we briefly discussed Artist Trading Cards. Artist Trading Cards (or ATCs) are miniature works of art about the same size as baseball cards and thin enough to fit inside standard card-collector pockets, sleeves or sheets. The ATC movement developed out of the mail art movement and has its origin in Switzerland. The cards are usually traded or exchanged rather than sold. Some examples were brought in and shared, giving our guests an idea what they were all about.
~
September 2008
Artist Jane Levy visited us at our September meeting to demonstrate precious metal clay art. Once completely dried and fired, precious metal clay retains its original shape and leaves 99.9% pure silver or 22k gold. Jane teaches workshops and certification classes in Art Clay throughout the United States and creates incredible jewelry and art pieces in this amazing medium.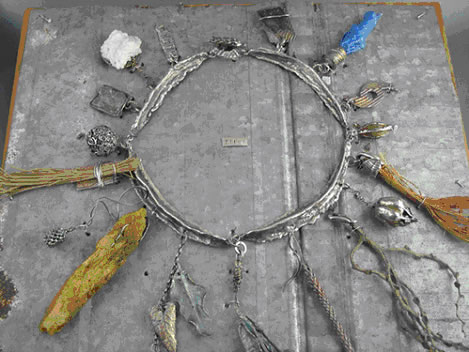 The picture above shows an example of Jane's unique art which she titled "Wilma (Hurricane)". Each attached piece is created with silver art clay and tiny pieces of items collected after the destruction of Hurricane Wilma. We truly enjoyed seeing Jane's creations and thank her for demonstrating how to use Precious Metal Clay.
~
| | | |
| --- | --- | --- |
| | | |
| Beth helps Fran and Lee is hard at work. | | Showing off our creations! |
| | | |
Our August 2008 program featured Beth Katz, member and well-known silversmith and jewelry artist. Members and guests created beautiful pendants through a process called wire wrapping, capturing a stone or a natural crystal and highlighting the shape and color of the stone selected.
~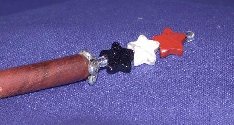 Our July 2008 program featured our member Doris Williamson who taught us how to make beaded hair sticks like the one pictured above. This shows one of the patriotic styles, but there were many, many beads to choose from! Members and guests had a fabulous time picking beads in their favorite colors and styles to create these beautiful accessories.